The story of two dogs' joyful excursion to a dog park.
About the Book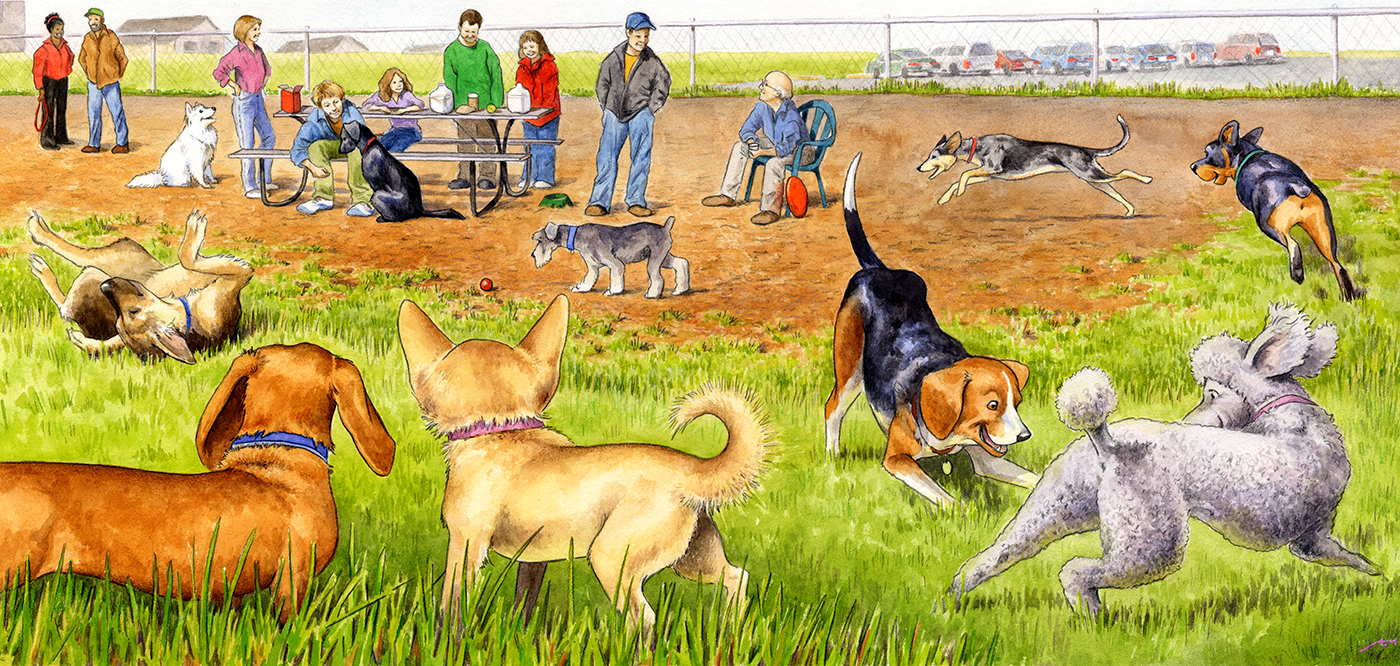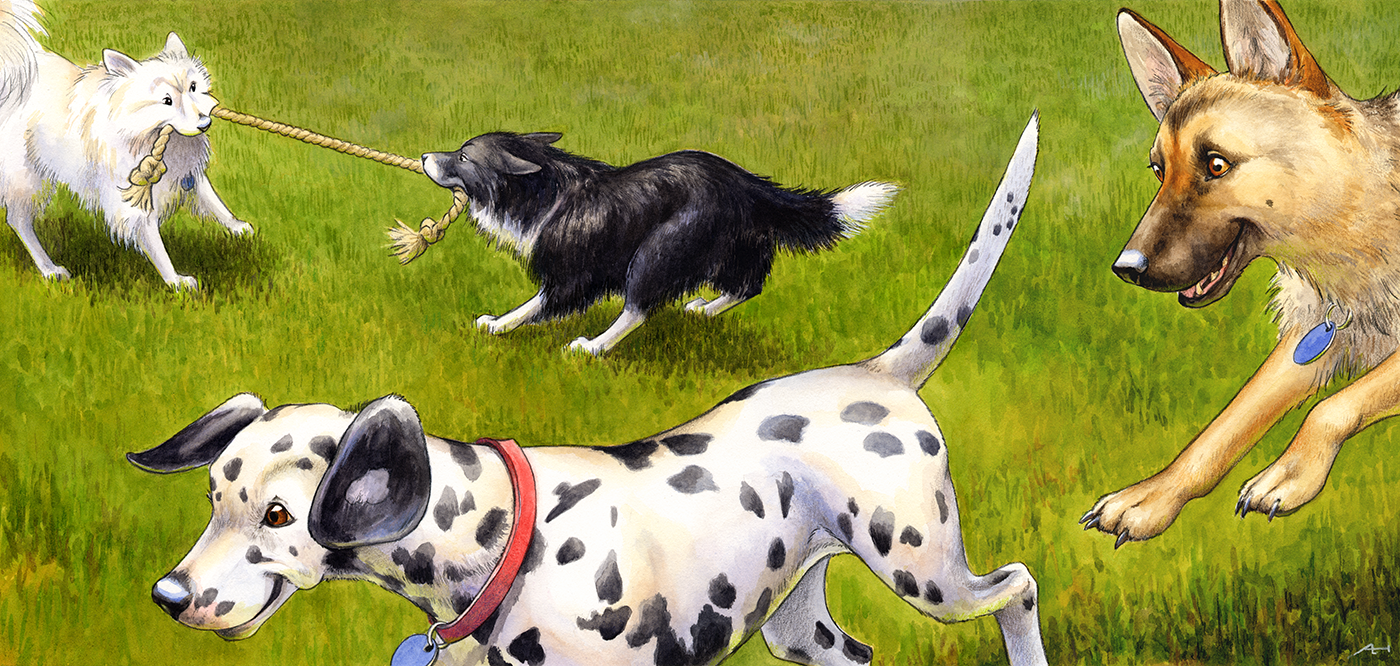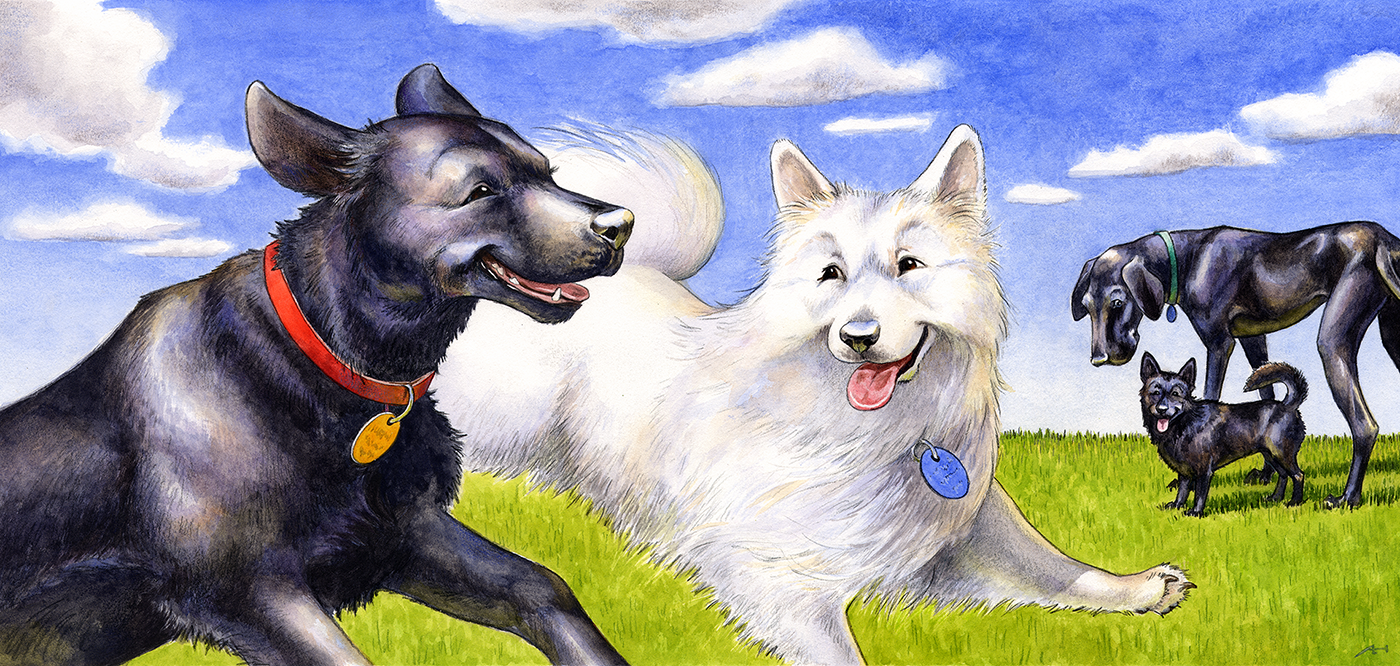 Dog park.interior.p.8-9.people at tables and dogs in various activities
Dog park.interior.p.12-13.tug of war and chase
Dog park.interior.p.6-7.sam and lucy running
There are dog parks in all but three states, and an increasing number of the nation's 65 million dog owners are discovering their various pleasures In this first-ever children's book about dog parks, dogs Sam and Lucy eagerly take part in a dog fiesta of movement and fun, running off-leash, free to cavort, to meet and greet, to leap and chase.
The final page has information for those adults who haven't yet been to one about what to expect at a dog park and how to create a new one.
---
Endorsements for At the Dog Park with Sam & Lucy
"This will delight any child that loves animals. It has clear, photo-like illustrations. You can feel the movement and slobbery kisses. There are only a few words per page."
— Cathy Saldin, Amazon.com Reader review
"The delightful illustrations that enliven each page provide a revealing glimpse of the everyday magic that occurs at these popular recreational spaces."
— Barb Heideman, Cofounder and Former President of ROMP, Minnesota
---
Editorial Reviews
School Library Journal
"Sam and Lucy are excited to be going to the dog park with their people. The text, spoken by the dogs, is breezy and light, switching quickly from one pup to another. The crisp watercolor illustrations capture their energy and exuberance. The many breeds depicted [29, and mixed breeds] are listed on their inside flap of the book jacket encouraging readers to find them in the pictures. The last page lists some simple rules for these parks and tips for starting one."
Endorsements
Giving children positive messages in a cheerful and gentle fashion, two books from [The Gryphon Press] should be on every five-year-old's 'must read' list. At the Dog Park with Sam and Lucy and Buddy Unchained tap into the natural empathy and connection between kids and dogs, and do it in a way that older children will enjoy as well.
Other Books in "Sit! Stay! Read!"