A homeless unloved pup becomes one lucky dog in this tender picture book …" —starred Publishers Weekly Review.
About the Book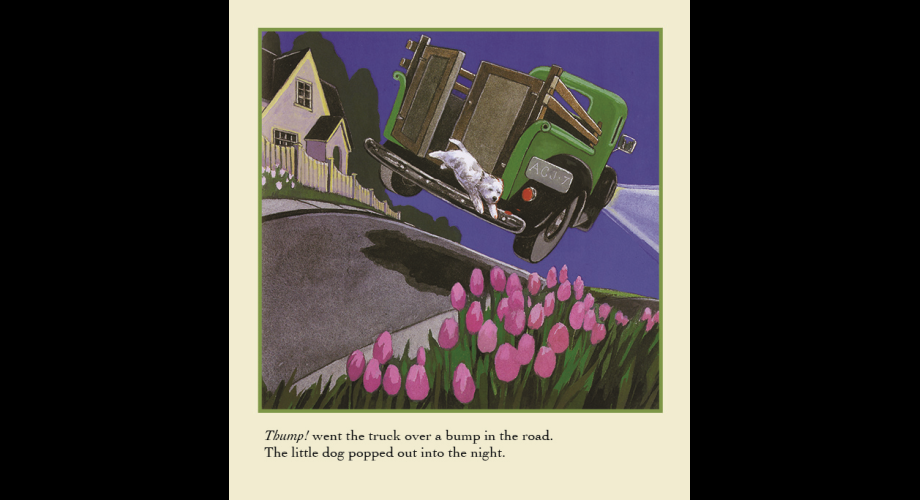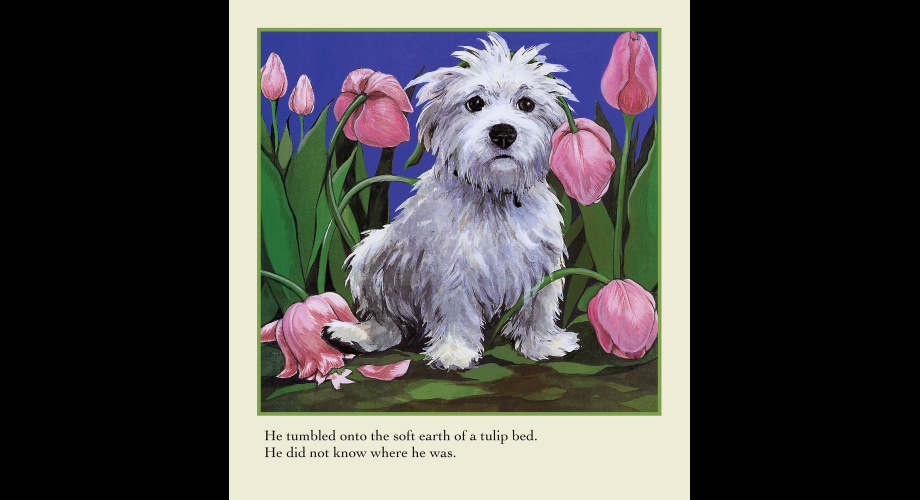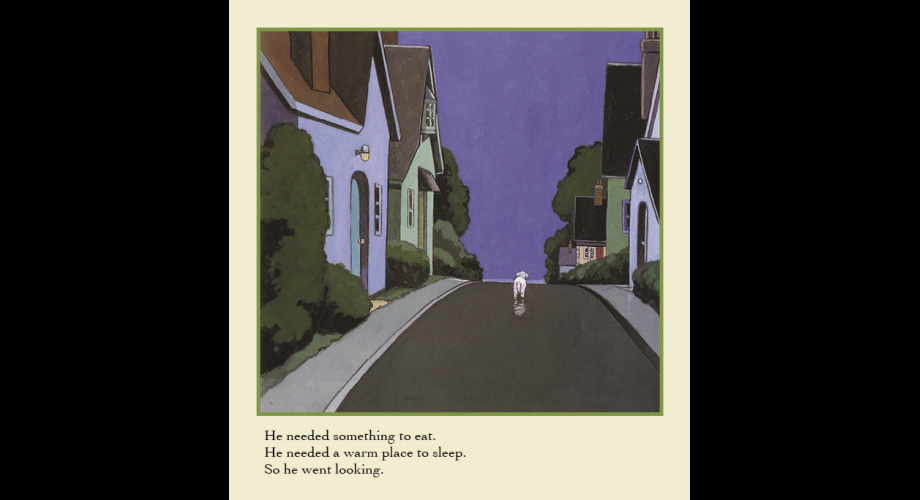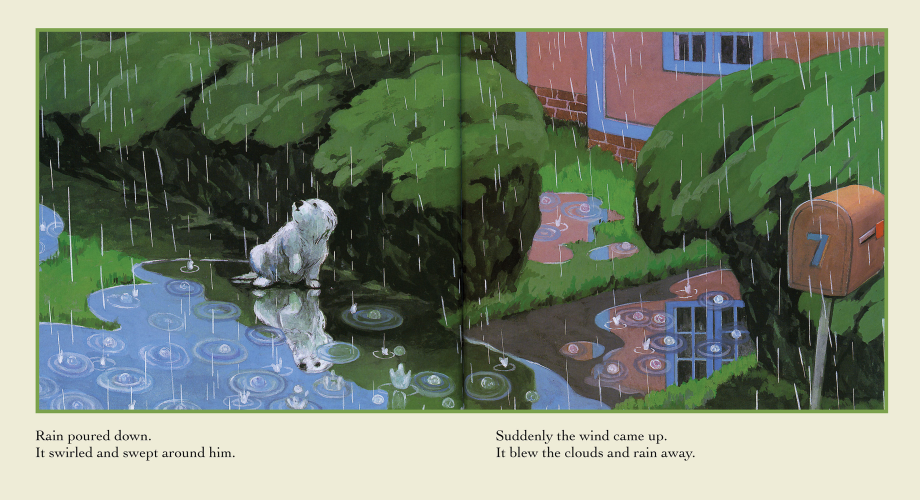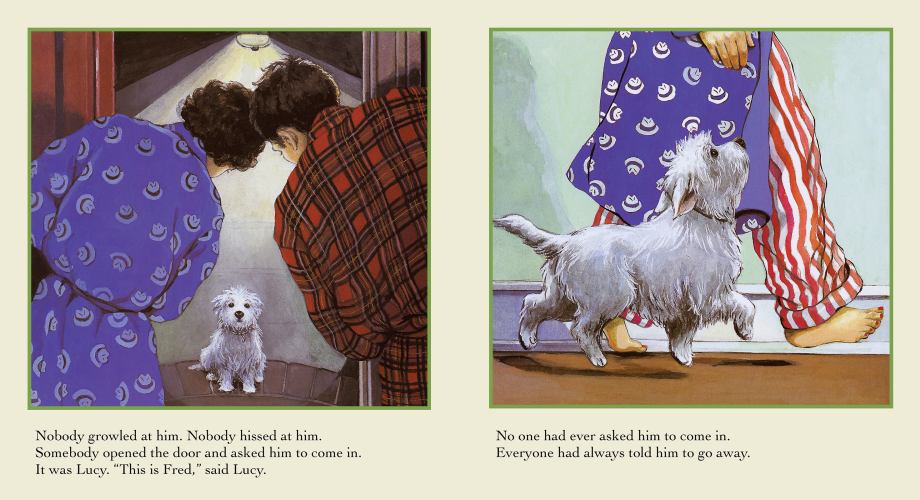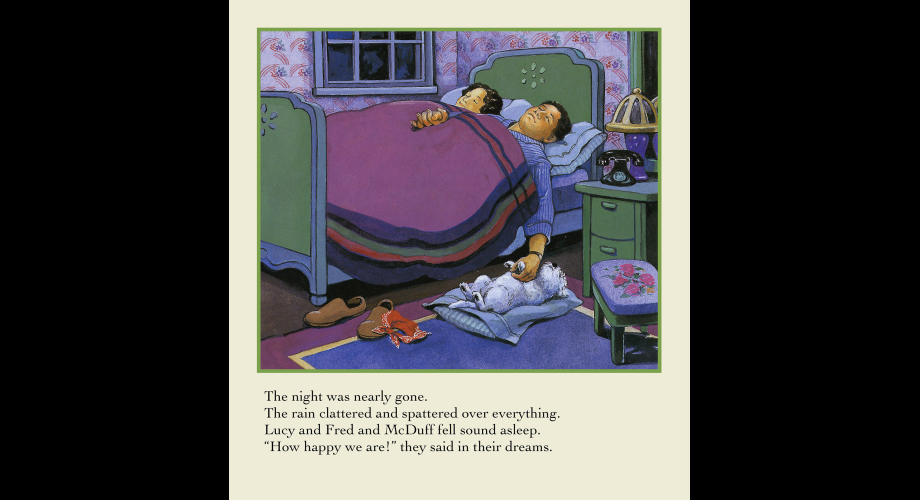 Page from McDuff Moves In
Page from McDuff Moves In
McDuff is back in a new edition to delight a new generation of readers.
The dream team of author Rosemary Wells and Caldecott Honor-winning illustrator Susan Jeffers shine in this delightful, timeless tale.
Set in the 1930s, a little dog bounces out of a dogcatcher's truck one night and searches the neighborhood looking for a home.
Fred and Lucy, a young couple, take him in, and bathe and feed him, but decide they are too busy to keep him. After they set out for the dog pound, they realize that they can't give him away.
At home again, during a late night celebration of adoption, they name him McDuff after their favorite brand of shortbread biscuit.
---
Resources
Download Classroom Guide
Endorsements
"Living creatures do not get any cuter than McDuff, … . Jeffers's illustrations are like old photographs of a bygone America made new—everything from the zinnias to the bathrobes is like virtual-reality nostalgia, old but unfaded."
"A classic rescue tale resurfaces in all its retro glory! Susan Jeffers's colors drench each page and Rosemary Wells's story of a discarded Westie finding his forever home can't help but elicit warm feelings. Welcome back, McDuff!!"
"This collaboration by Wells and Jeffers is as sweet, substantial, and comforting as that bowl of ice pudding and will suit the many children who like stories with simple words, clear story lines, and happily-ever-after-endings."
The text is the perfect length, with a turn-the-page pacing. The colors are sumptuous, rich, and warm. . .This is a wonderful book for your home collection or your stash of classroom books about caring for animals. Highly recommended.
"How could this beautiful book be anything but 5 stars? Rosemary Wells' story is heartwarming and the illustrations by Susan Jeffers are so beautifully drawn and evocative of its 1930's setting. . . I hoped this book would be one I could read with my young grandchildren and I absolutely plan to do so as soon as possible, maybe all snuggled up with a bowl of rice pudding each made from the recipe at the back of the book. . . I would recommend it to anyone who remembers the original, likes beautifully illustrated work, or is a dog lover, in fact everyone who wants a little hug of a book to make you feel good. "
– Tracy W. (customer)
"This is a beautifully illustrated book. You can't help but fall in love with the little white dog 'McDuff'. The underlying message is there's a home for everyone. And if there's a place in your home re home an unwanted pet."
– Catherine H. (educator)
"I read this book to my 5year old daughter and she loved it! Her favorite part was "how they helped the dog because helping people is nice." The illustrations are beautiful! I highly recommend this book for kids. It has a great message."
– Sheri S. (reviewer)
"As someone who loves dogs, I appreciate all the details that go into the little lost dog through this adventure. You can study the pages for new details after more than one read. . . It's the kind of book you can read again and again with your kiddos and allow them to do the "Woofs" for McDuff the whole way. I greatly applaud in info in the back about helping other dogs that need forever homes and I look forward to trying the recipe, too."
– Ran F. (reviewer)