Jeannie the hamster is bored—until she becomes an escape artist and finds a best friend.
About the Book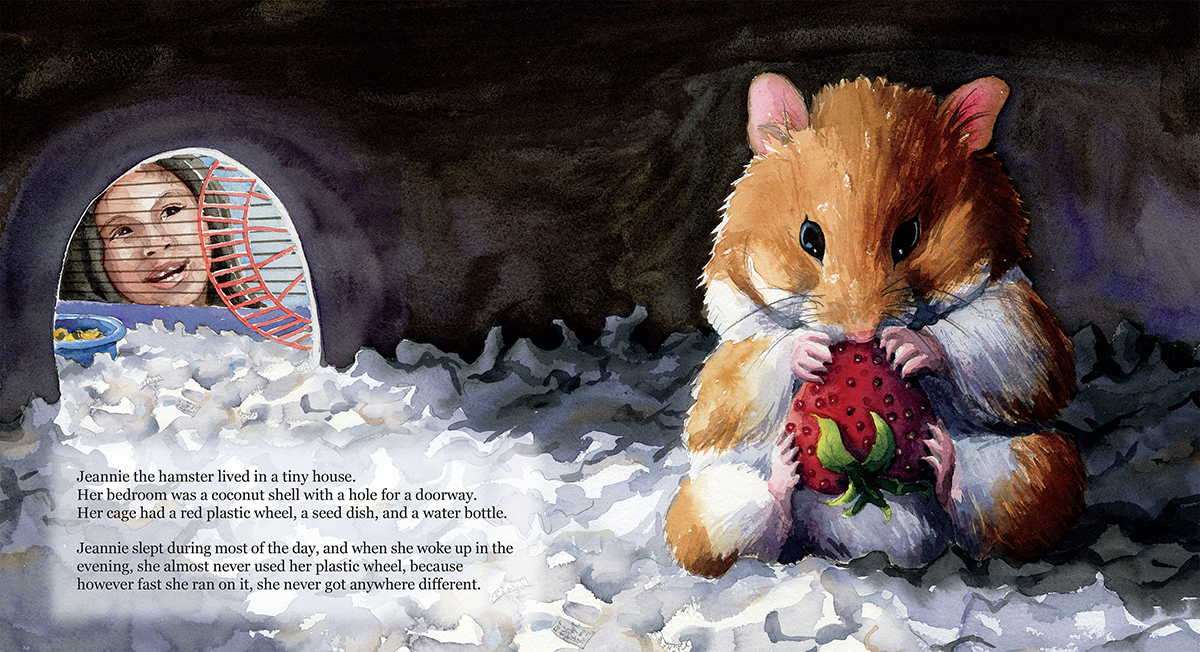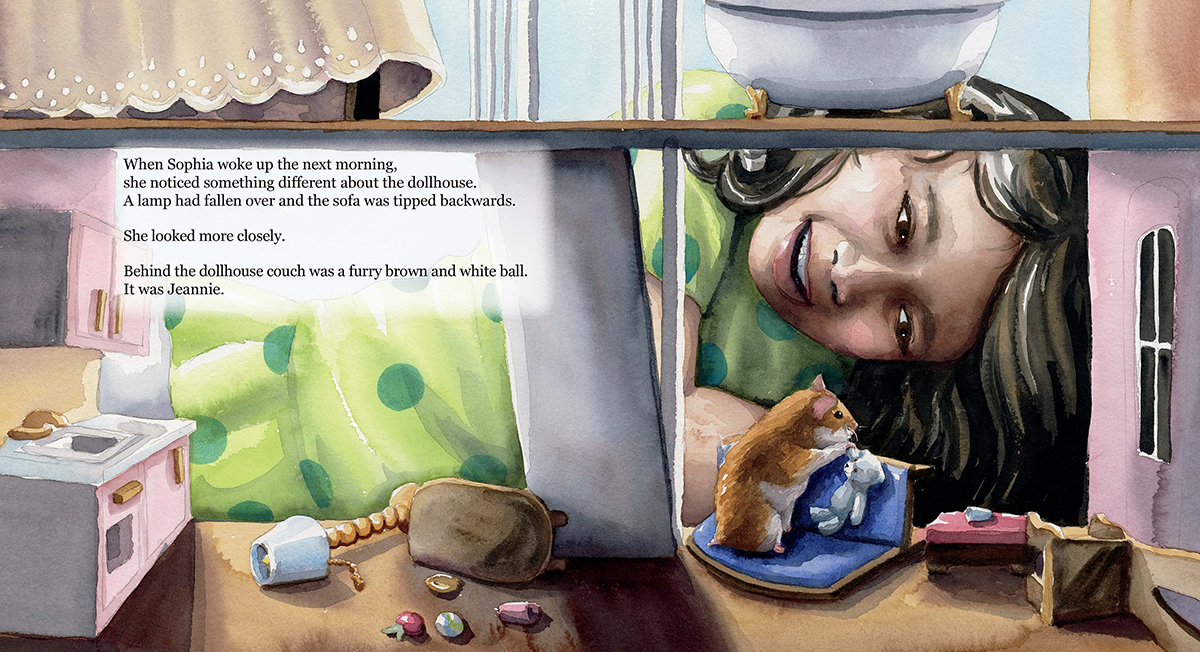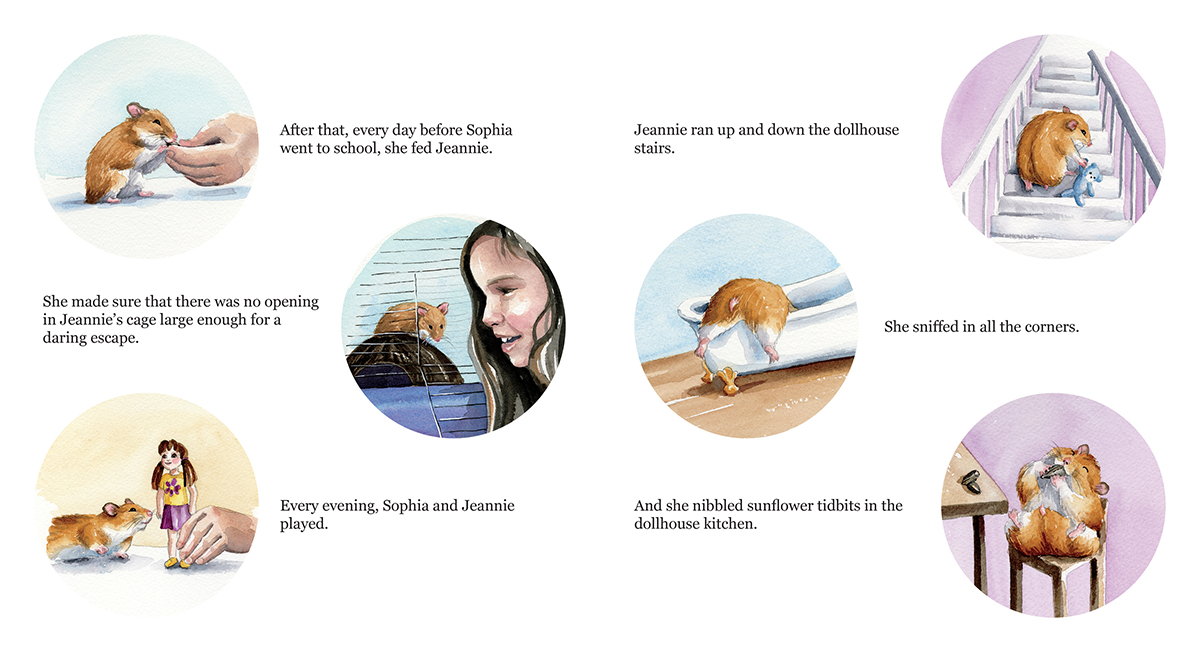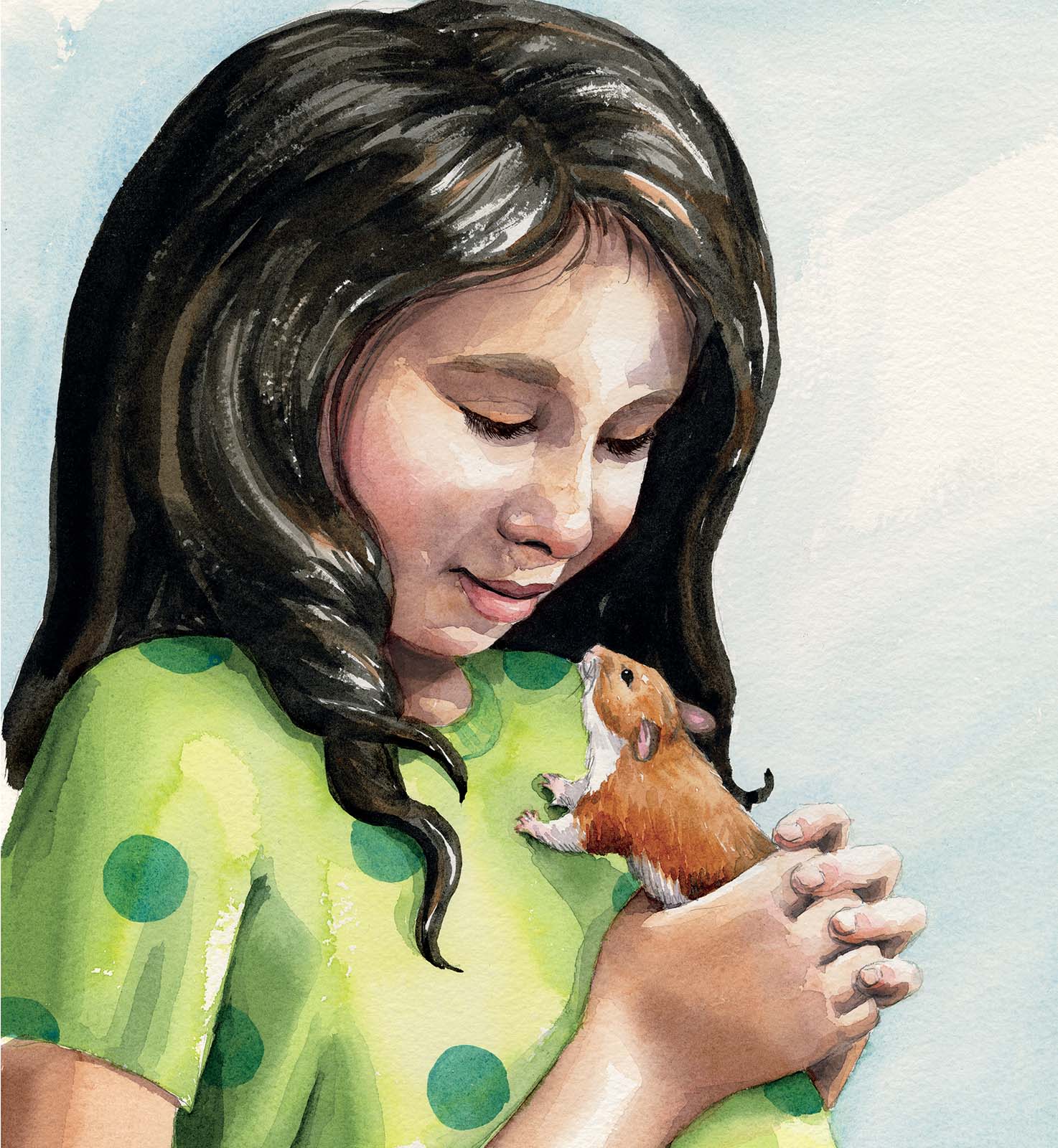 Interior Art from Jeannie Houdini, A Hamster Tale
Interior Art from Jeannie Houdini, A Hamster Tale
Interior Art from Jeannie Houdini, A Hamster Tale
Interior Art from Jeannie Houdini, A Hamster Tale - copy
Jeannie is a hamster whose twin caregivers, Mateo and Martina, have lost interest in her. The twins' little sister, Sophia, feels left out of her older siblings' lives and longs to make Jeannie her own. When Jeannie repeatedly escapes from her cage, Sophia's mom gives Sophia a chance to care for Jeannie. Sophia decides that Jeannie keeps escaping because she's bored. Sophia sets out to enrich Jeannie's life and, in the process, the two become fast friends.
---
Resources
Download Classroom Guide
---
Endorsements
... With an interesting layout of full and partial illustrations, this sweet picture book entertains, especially on the pages that depict Sophia hunting the missing hamster down. A friendship between Sophia and the mischievous pet is inevitable as she discovers the commonalities between Jeannie's small world and her own miniature playhouse.

Interesting subplots available for discussion include sibling rivalry, the historic vaudeville performer, and responsible pet ownership. A helpful section at the end of the book answers questions about how to care for and adopt hamsters as pets.

Evans paints the children with light-brown skin and straight or wavy black hair; their names suggest Latinx heritage. A fine educational tool for children who think they may be ready to give love and attention to a pet. (online resources) (Picture book. 3-6)
Jeannie Houdini is a captivating tale for any child who wants a pet. Mary-Ann Stouck depicts the deep connections between attentive children and contented pets. She charmingly conveys the characteristics of hamsters: their cuddliness and fragility, their need to chew and play, and their dietary, health, and shelter requirements. With easy instructions for befriending and keeping a hamster, Jeannie Houdini is a perfect primer for children and parents. Rebecca Evans' delightful illustrations highlight the gentle, loving rapport that develops between a child and a properly cared for pet.
Although Jeannie Houdini is full of information about how to care for your pet hamster, it is more than a how-to book—it is a story. Young readers will connect with this character, a lonely little sister who longs for a playmate, and they will cheer when she finds a friend in the bored, neglected family pet. Each finds what they need in the other in this satisfying book, and it will encourage readers to give their pets plenty of attention, care, and love.