Can a hen be a boy's best friend? Aaron thinks so!
About the Book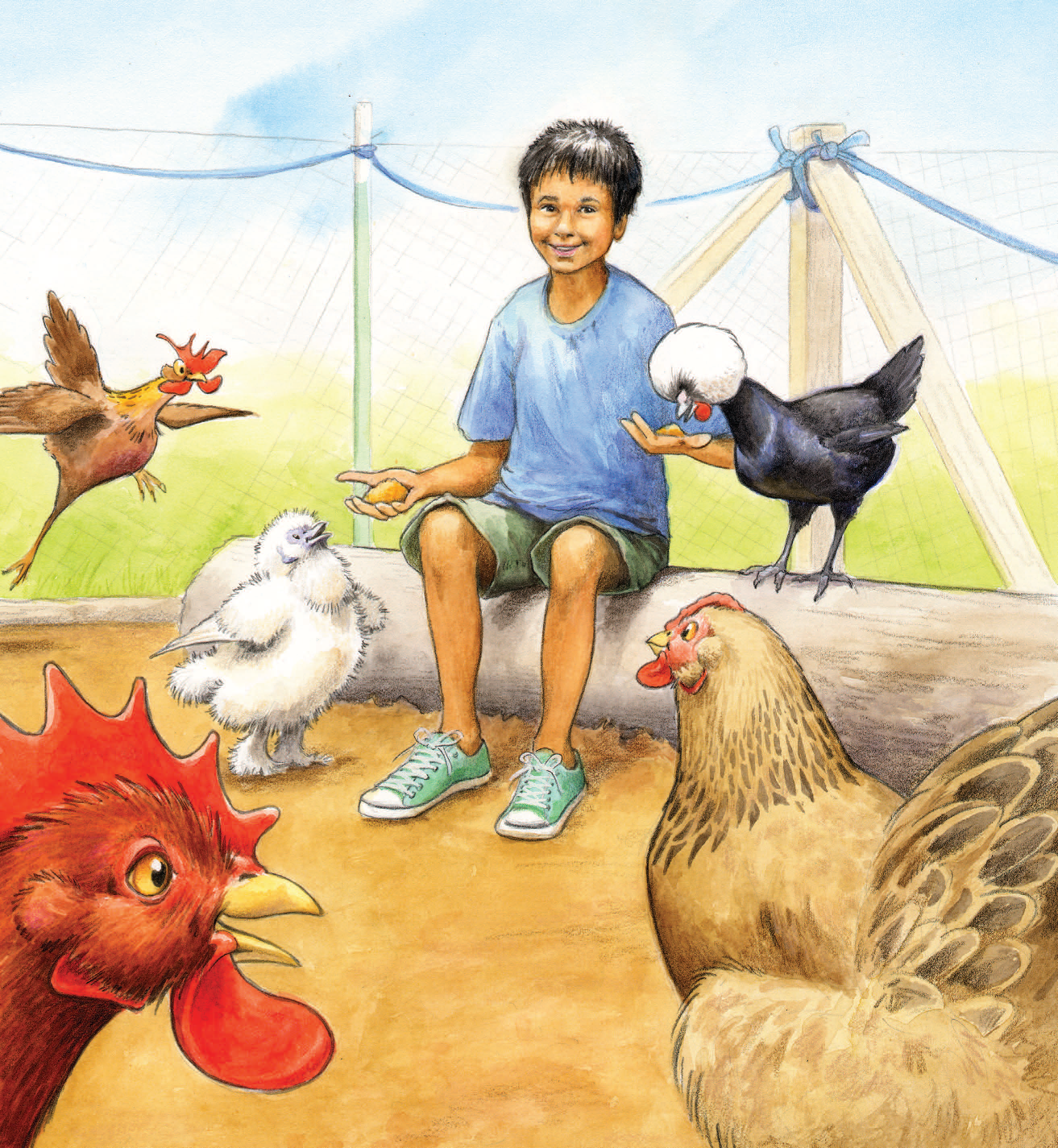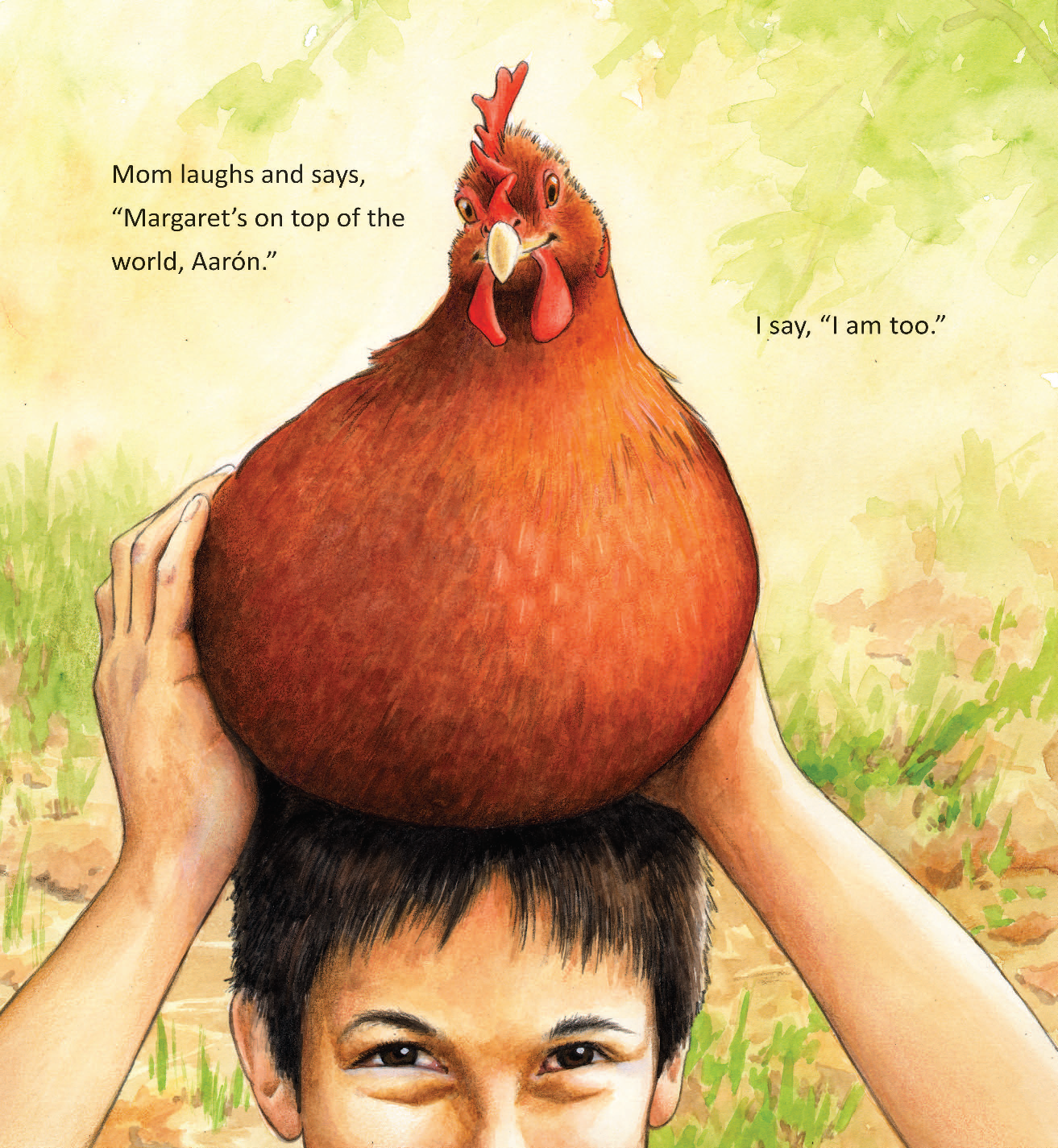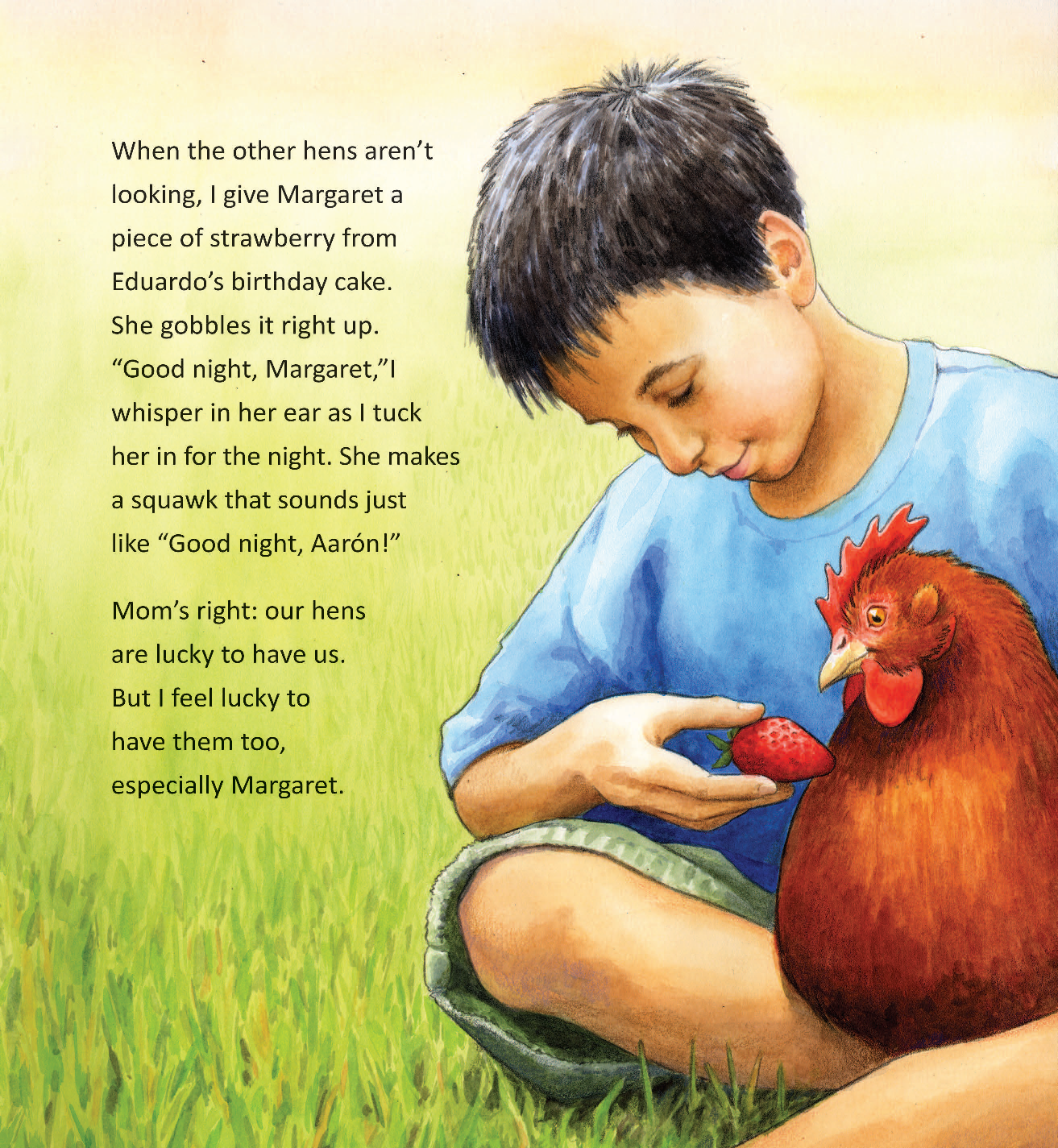 Can a hen be a boy's best friend? Aarón thinks so!
Hens are smart, savvy, and they like to cuddle, as Aarón explains in this picture
book about his relationship with his best friend, Margaret, a Rhode Island Red hen.
Aarón's family interacts with their six adopted hens; they play with and pet the hens, tuck them in at night, as well as keeping the chicken coop clean and protected. When their mother bakes a birthday cake for Aarón's younger brother, Eduardo, Aarón makes sure that Margaret's eggs will be part of the cake.
Award-winning artist Amelia Hansen's delightful illustrations and author Sandy De Lisle's charming text engage young readers with the full range of responsibilities and joys of raising backyard hens. Aarón tells the story of how his family interacts with their six adopted hens, not just in chores like keeping the chicken coop clean, but playing with, petting the hens, and tucking them in at night. When their mother bakes a birthday cake for his brother, Aarón makes sure that the eggs come from Margaret.
Young readers learn that hens recognize people they've met, can tell time and solve problems, as well as learning that hens require ongoing care after they stop laying eggs. The final page of the book lists additional resources for adults.
Hens for Friends, unlike other children's picture books about chickens, has a sweet sensibility about the joy of a loving relationship with an unusual companion animal along with easy-to-digest information about the benefits and the obligations of responsible stewardship of backyard hens and how the family's care for their hens differs from that on a factory farm.
Perfect for bookstores to co-host a reading with a local animal humane group, backyard chicken group, or chicken sanctuary, or for animal loving bookstores.
---
Resources
Download Classroom Guide
---
Editorial Reviews
"Aarón loves all his family's chickens, but Rhode Island Red Margaret is his special favorite. It's no wonder, as Margaret has an especially fetching expression in Hansen's line-and-watercolor illustrations, which take advantage of natural chicken physiognomy to endow Margaret and the rest of the flock with demure 'smiles.'
They make it clear that it's not just the eggs that spur Aarón's devotion. In a simple, personable narration, Aarón tells readers that his family got their flock from Mother Hen Chicken Rescue after the city council passed an ordinance allowing residents to keep the birds. He explains how they house, care for, and feed the chickens, gather eggs, and use the composted 'poop' in their garden … That Aarón and his family are Latino is just icing on the cake in this engaging introduction to keeping backyard chickens."
School Library Journal
(K-Gr 3) Aaron and his family happily raise six hens adopted from Mother Hen Chicken Rescue. While he gives each of them special attention and protection, Aaron is especially devoted to Margaret, who readily purrs much like a cat whenever he strokes her back. Though many people in the unnamed city express a dislike for the potentially disease-carrying creatures that attract rodents, the city council passes a law permitting each family to keep up to six hens. The author explains how to avoid potential problems by keeping the coop clean, chicken feed covered, and hands continually washed. While the focus of the story is the boy's friendship with his hen, the narrative is chock-full of practical information about keeping these unlikely pets. In simple format, De Lisle spares no detail about the daily maintenance necessary, from the morning ritual of freeing hens into the yard, filling feeders with food and fresh water, and carefully gathering eggs, to putting the chickens to roost at night. She even describes the benefits of composting using hen poop. Hansen's cheerful line-and-watercolor illustrations complement the text well, depicting a pleasant Latino boy and hens that faintly yet distinctly smile back at him in response. Verdict: A useful and accessible choice for anyone truly interested in raising poultry.
— Etta Anton, Yeshiva of Central Queens, NY
Endorsements
Hens for Friends is not only a great story about animal-human friendship, but it is also filled with useful, interesting information about raising backyard hens. The illustrations of the chickens are realistic while also being warm and inviting. This book would be a valuable addition to any classroom or library to help children understand proper pet care. Kids of all ages will love this book. I can't wait to read Hens for Friends to my granddaughter! (Photo: Craig Perman)
Hens for Friends is a recommended read for anyone looking for a beautiful tale of friendship between an animal and a child. An enchanting story of compassion and respect extended by a young boy to a hen named Margaret, it provides an opportunity to see chickens showcased as the wonderful, engaging individuals they are.