With poetic language and lush oil paintings, children will cheer on the tiny but mighty yellow warbler as she makes her perilous migration journey from the tropics of Central America to the Canadian tundra. 
About the Book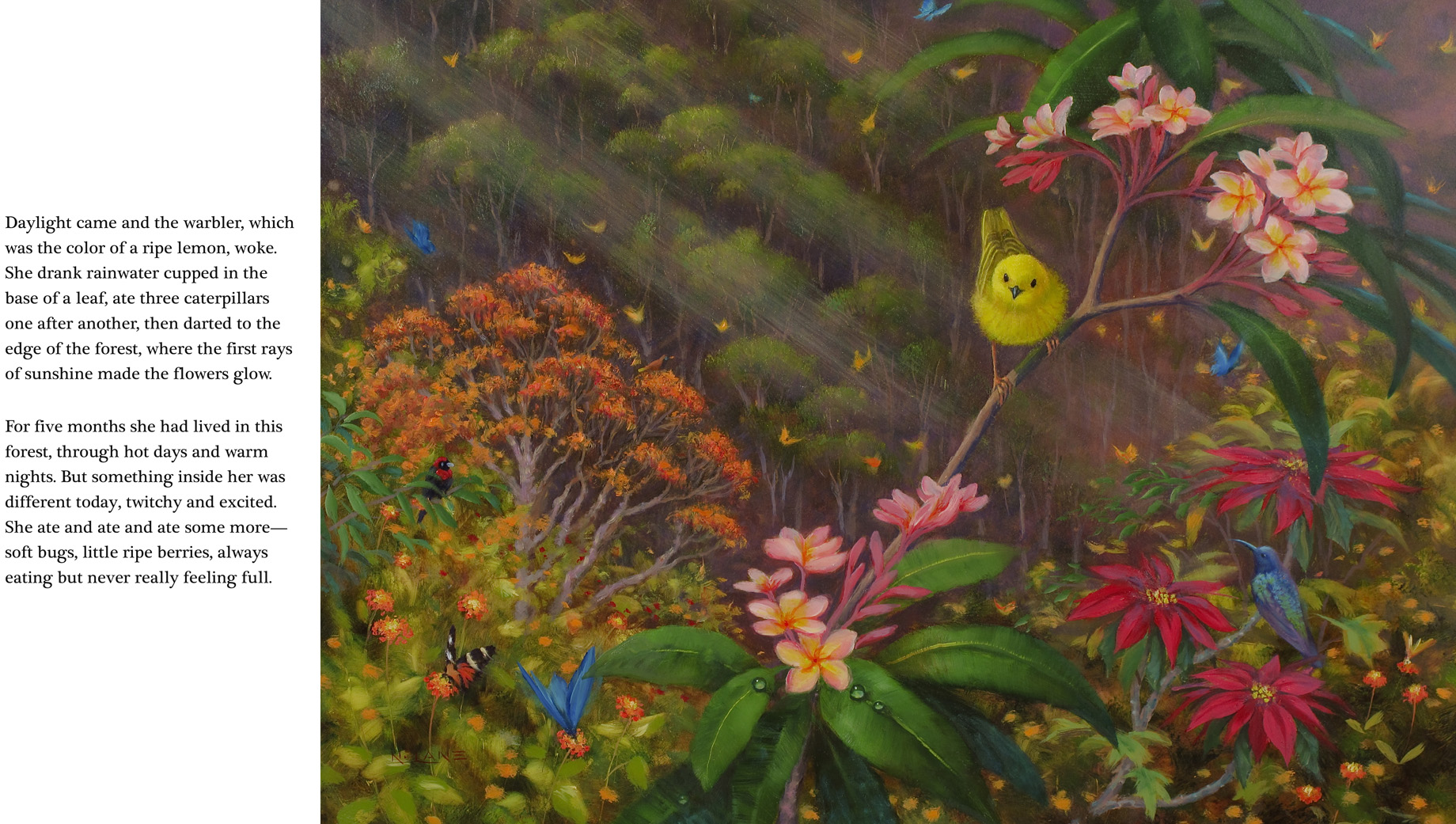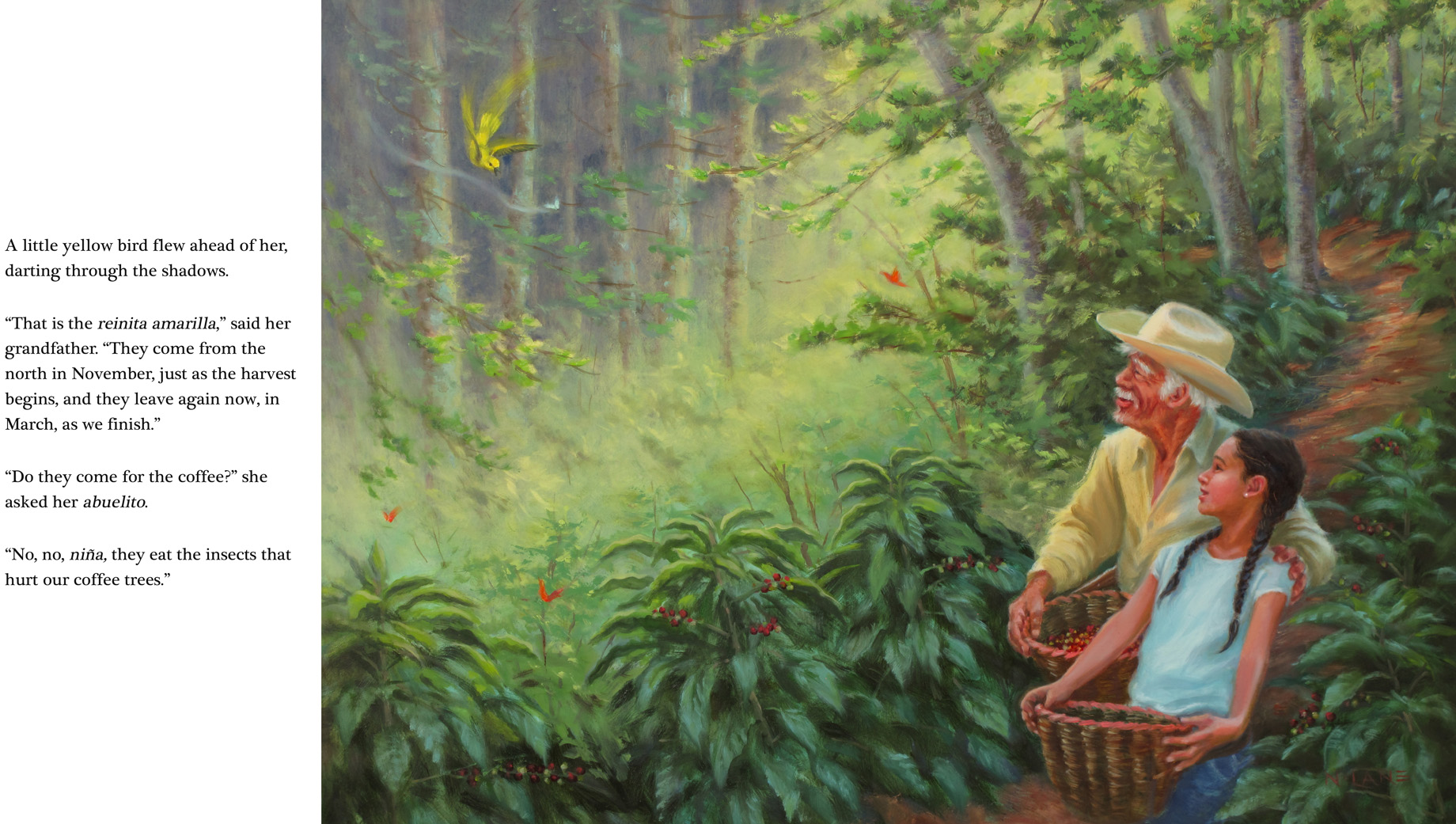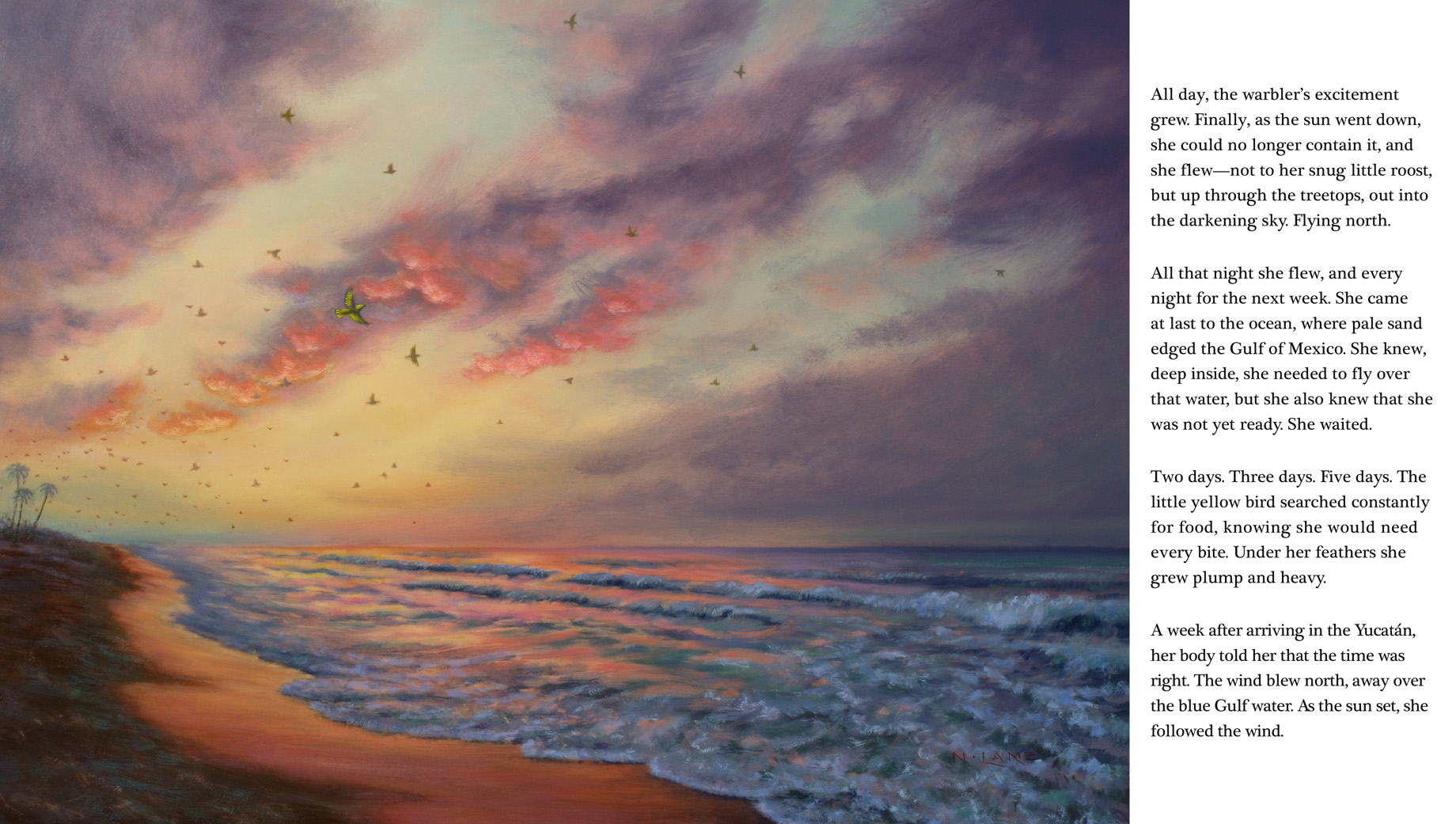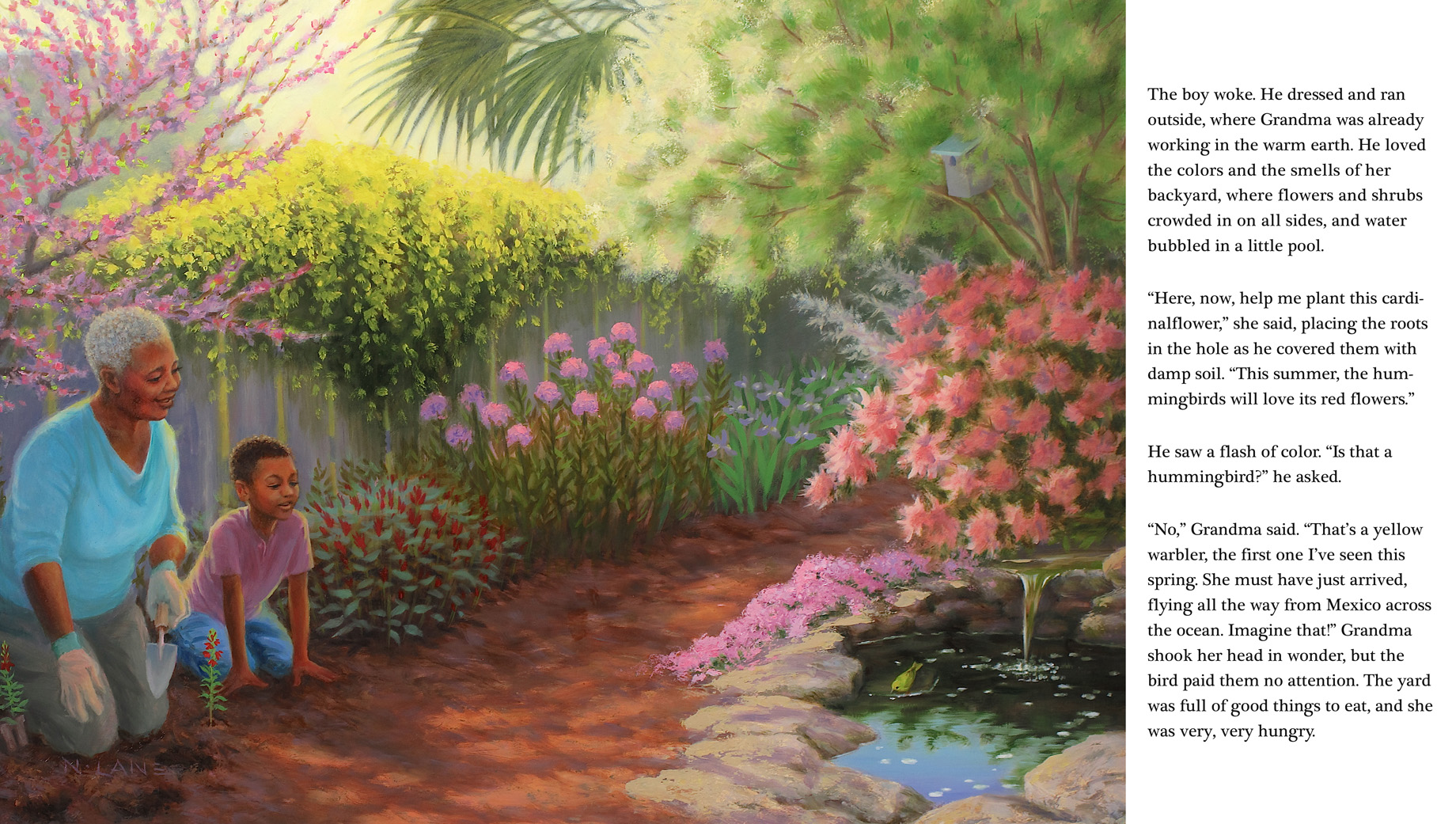 Warbler was named a favorite book of 2022 by NPR!
The warbler is helped along the way by three different children and families: a Nicaraguan family whose traditional shade coffee farm sustains migrant birds, an African-American family that creates a garden in their backyard on the gulf coast to provide food for her, and a family from The Łutsël K'é Dene First Nation in Canada who have preserved land for all animals.
The yellow warbler's journey is one migration out of many millions, each a miracle of tenacity and survival. Her journey of great risks and challenges is made even harder today by human changes that have severely eroded these birds' habitat. However, the end pages detail many actions, large and small, that people can take to ease the passage of these birds.
Reviews
In his first book for children, wildlife researcher and Pulitzer finalist Weidensaul describes the epic flight of a yellow warbler making its spring migration from Nicaragua to Canada's Northwest Territories.
His evocative language puts the reader in the warbler's shoes, so to speak, bringing to life the twitchy instinct she feels to embark on an epic journey. First she bulks up, eating caterpillars and berries, and then her flight begins.
Lane's marvelously detailed paintings fill three quarters of every double-page spread, where one white strip is reserved for the text. The soft, light-dappled scenes are awash with color and convey the scale of the tiny bird's trip through the much larger world.
Readers will delight in finding the small, yellow bird in every illustration, whether it's amid the branches of a shaded coffee farm, above a moonlit ocean, or resting in a backyard garden.
There is also a lovely incorporation of racial diversity in the few instances where people appear: Nicaraguan farmers, a Black grandmother and grandson, and a Łutsël K'é Dene First Nation family. The appended spread titled "Easy Ways for Everyone to Help Warblers (and All Migrating Birds)" provides extra details about the yellow warbler's migratory route, followed by bulleted tips on keeping migratory birds safe and healthy. An awesome account of an awe-inspiring feat.
 — Julia Smith
Lyrical language will entice readers … No one who reads this can remain unmoved by this tiny bird's tenacity; this is sure to create avid new bird-watchers.
A Warbler's Journey" is a lyrical prose poem that's a joy to read … Not only does this book tell a sweet story of the migration of one bird among many millions, it also shows that wildlife can connect children across thousands of miles.
 — Mary Ann Grossman
A spectacularly illustrated, factually accurate story of a tiny yellow warbler's migration journey as she flies thousands of miles to reach her mate. In her dazzling oil paintings, Nancy Lane creates stunning landscapes and people that illuminate Pulitzer-prize finalist Scott Weidensaul's poetic and detailed description of the warbler's perilous journey from the tropics of Central America to the Canadian tundra. Together, they engage the reader's interest in a story that conveys a deep sense of the wonder and the danger of the migration journey.
---
Resources
Download Classroom Guide
---
Endorsements
"A Warbler's Journey is masterfully woven words of wonder written with hope as a warm tailwind. It is art and science about a tiny bird that will make a big difference."
"Weidensaul's poetic and inspirational language gracefully draws the reader into the warbler's amazing journey. Nancy Lane's vivid oil paintings joyfully illuminate the text."
"With its engaging story and richly detailed illustrations of one yellow warbler's epic spring migration, this book is sure to inspire and inform readers of all ages."
"This book has such gorgeous illustrations and so much great information. It was so thoughtfully written. Not only did we learn about the Warbler, but the people and cultures of the people that saw the Warbler on its travels. This would be a great addition to any nature lovers bookshelf and library."
– Cheyenne Schweikert (Educator)
"The reader is treated to a feast for the senses with the vivid descriptions of nature, wildlife and the native peoples that the little warbler's path intersects with -- an incredible panorama of forests, oceans, mountains, plains, lakes and skies. Reading this book will give the reader a deep sense of tranquillity and harmony with nature -- much needed in these uncertain and chaotic times!"
– Leela Chandra (Educator)
"As a grade 3 teacher I could definitely see this book in my classroom library and would recommend it to other teachers in the kindergarten to grade 5 range."
– Angie Kuhnle (Educator)
"The end matter proves that if coffee plantations are turned into shade-less monocultures, and if people stop providing wild corners for wildlife, and if people demolish the ageless customs of these birds by ruining the land they live on, the trek could well be ending its days in all the wrong ways. But this isn't a downer of a book, instead it's thoroughly positive, and very well-written, and an out-and-out charm."
– John Lloyd